KELLY&CO'S Grain-free Premium Fjord Bay
HIGH-QUALITY, PROTEIN-RICH KIBBLE PACKED WITH NUTRIENTS
#1 ingredient salmon
Poultry-free
Omega-rich for healthy skin and coat
High levels of glucosamine & chondroitin to support maintain hip & joint function
Added probiotic to support gastrointestinal health
No corn, wheat, or soy protein
AVAILABLE SIZES: 6 lb. (2.72 kilograms)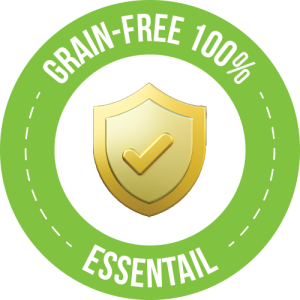 GRAIN-FREE FOOD RIGHT FOR YOUR DOG?
While dogs have adapted from wild animals to domestic pets, their digestive systems remain primitive. For breaking down and metabolizing complex carbohydrates and cereal grains, dogs have a little natural digestive support. The body relies on fermentation to break down these difficult-to-digest fibers and grains.
This can cause bowel inflammation disorders, food sensitivities, food allergies, leaky gut, and obesity by damaging the digestive system's lining.
INGREDIENTS WE ARE PROUD OF
Hydrolysate Salmon, Beef Meat & Bone Meal, Cassava, Whole Egg Powder, Beef tallow, Salmon oil, Vitamins & Minerals, Methionine, Choline Chloride, lodine Salt, Zn Amino Acid Complex, Natural Cellulose Fiber, Glucosamine Chondroitin sulfate, Yeast Extract (Source of Beta glucan & Mannan oligosaccharides), Brewer's Dried Yeast, Probiotics (Bacillus subtilis, Bacillus licheniformis, Pediococcus pentosaceus, Saccharomyces cerevisiae), Yucca Schidigera Extract, L-carnitine, Collagen, Preservative with Vitamin C
(L-Ascorbic acid) & Vitamin E (Tocopherol acetate).
GUARANTEED ANALYSIS & NUTRITIONAL
The data in our typical analysis is composed of calculated values using expected figures from ingredient databases and actual lab analyses of our foods. This table provides more detailed information than our Guaranteed Analysis but it is not intended to represent absolute values. This data is oftentimes helpful when determining if a specific recipe is suitable for a known dietary requirement. If you or your veterinarian have further questions, please Contact Us.
Omega 6 Fatty Acids* (min)

Omega 3 Fatty Acids* (min)
GUARANTEED ANALYSIS & NUTRITIONAL
To promote optimal nutritional absorption, rehydrate meals with warm water, Bone Broth, or Raw Goat Milk. For each cup served, we recommend fully integrating one spoonful of hydration. When feeding any product, use stainless steel dishes. Other porous materials, such as plastic and porcelain, can retain germs over time.

Sudden dietary changes, particularly overfeeding, might cause stomach problems. For the first 7-10 days, cautiously incorporate any new food into your regular diet, gradually increasing the amount of Kelly & Co's while decreasing the amount of the other brand.
Freeze-dried food has a long shelf life and should be stored in a cold, dry area. Keep refrigerated after rehydrating and feed within 5 days for maximum freshness.
Keep the bag closed and store it in a cold, dry area. Once moistened, the freeze-dried formula will keep its freshness for 3-5 days when refrigerated.
Separate freeze-dried pet foods from other foods. Hands, work surfaces, utensils, and any other objects that come into contact with freeze-dried animal pet meals should be washed in hot, soapy water. Uneaten pieces should be refrigerated promptly or discarded. Keep this product away from babies and small children.